Our comprehensive and expert Managed IT Services meet the evolving needs of your organization.
Our mission is to empower businesses with advanced technological solutions, ensuring that you can focus on your core operations while we handle the intricate world of IT.
We look closer at the unparalleled expertise that Intellivizz brings to Managed IT Services.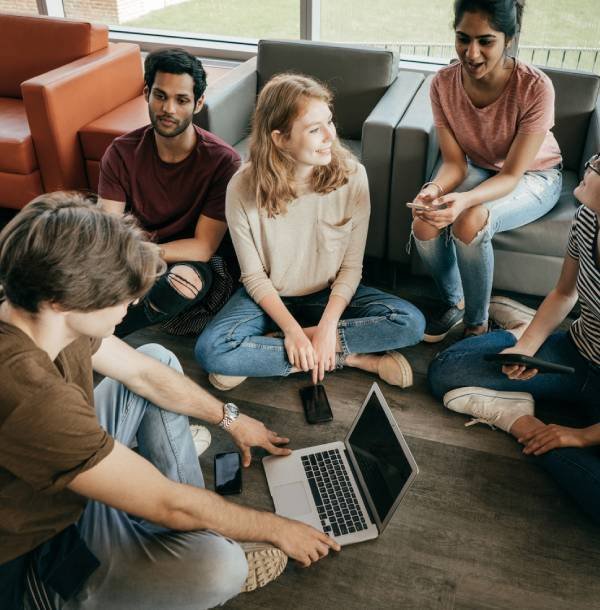 Our Diverse Range of IT Services
Intellivizz offers a comprehensive suite of IT services that covers a spectrum of essential business requirements. Here is a glimpse of what we bring to the table:

Our cloud services empower your business to harness the potential of cloud computing, providing a seamless transition to scalable, cost-efficient, and secure cloud environments.

Cybersecurity
Cyber threats are ever-evolving, and our cybersecurity solutions are at the forefront of the battle to protect your digital assets. We deploy cutting-edge measures to safeguard your business from potential threats.

Network Support
A stable and efficient network is the backbone of any modern business. We ensure that your network runs smoothly, securely, and with the optimal performance required for your operations.

Business Continuity
Prepare your business for any eventuality. Intellivizz offers customers robust business continuity solutions to ensure your operations continue uninterrupted during crises.

Data Centre Services
We optimize your data center for peak performance, enhancing your ability to efficiently store and access critical data.

Disaster Recovery Solutions
Our disaster recovery solutions protect your data from loss or corruption, guaranteeing its availability when needed most.

Technical Implementation
Our full technical support and implementation services are expertly tailored to meet your specific needs, ensuring that your technology works for your business, not the other way around.
Field Tech Support
When you encounter on-site IT challenges, our Field Tech Support team is ready to provide immediate assistance to resolve any issues efficiently.

Need assistance at your fingertips? Our IT Helpdesk Support team is available around the clock to provide expert guidance and resolve your IT queries.

IT Procurement
Simplify your IT procurement process with our guidance, allowing you to make cost-effective and strategic decisions.
IT Consulting
Benefit from our expert advice on IT strategy and planning, helping you make informed decisions for your business.

Virtual CIO Services
Access the knowledge and expertise of a Chief Information Officer without the overhead. Our Virtual CIO Services provide strategic guidance for your IT endeavors.

Data Disaster Recovery
Protect critical data from loss or corruption with our comprehensive data security services and disaster recovery solutions.

VoIP Solutions
Enhance your business communication with Voice over Internet Protocol (VoIP) solutions, ensuring cost-effective and efficient voice services.

PBX Solutions
Modernize your telephone system with remote support from our PBX solutions, ensuring efficient communication within your organization.

Software Vendor Selection Services
Choosing the right software vendors is pivotal to your business success. Our Software Vendor Selection Services help you make informed decisions that align with your business growth goals.
Software Implementation Services
Seamlessly integrate new software into your existing systems with our expert Software Implementation Services.

Hardware Implementation Services
Upgrade or integrate hardware seamlessly with our expertise, ensuring your technology infrastructure aligns with your business objectives.
COMPREHENSIVE MANAGED IT SERVICES
At Intellivizz, our Managed IT services encompass a range of vital components:
Managed Antivirus
Protect your computer systems from malware, viruses from other devices, and other digital threats with up-to-date antivirus software.
Managed Backup
Safeguard your data with regular, automated backups, ensuring your critical information is always secure.
Patch Management
Stay secure with timely software updates and patches, reducing vulnerabilities and ensuring your business operations are not compromised.
Alerts and Notifications
We provide:
1) Real-time alerts and notifications.
2) Allowing you to take on any critical issues.
3) Ensuring swift responses to potential problems.
Network Traffic Flow Analysis
Our network experts monitor and optimize network performance, ensuring your network operates at peak efficiency.
Real-Time Reporting
Our reporting services offer insights into your IT infrastructure's health and performance, empowering you with valuable data for strategic decision-making.
24/7 Monitoring
Count on Intellivizz to keep your systems under constant surveillance, allowing us to address issues before they impact your business proactively.
Why Partner with Intellivizz
Partnering with Intellivizz is an investment in your business and customer's success. Here are the compelling reasons to choose us as your Managed IT Services provider:
Less Risk: Our expertise minimizes IT-related risks, ensuring your business operates smoothly.
Proactive Solutions: We identify and resolve problems before they disrupt your business, ensuring continuous operation.
Predictable and Controlled Budgeting: Our services allow you to confidently manage your IT budget with no surprise expenses.
Access to Industry-Best Professionals: Our team of seasoned IT professionals is at your disposal, ready to offer their expertise to your organization.
Latest Technology: Stay at the forefront of technological advancements with our state-of-the-art solutions, guaranteeing your business's competitiveness.
Fastest Support and Response Time: Count on Intellivizz for rapid assistance, reducing downtime and increasing productivity.
Guaranteed Service Levels: We stand by the quality of our services, ensuring that you receive them. The best in Managed IT Services.
More Business Focus: With Intellivizz handling your IT needs, you can shift your focus to your core operations, driving business growth.
Get a Quote
Ready to experience the Intellivizz advantage?
Contact us today for a customized quote that aligns with your business requirements.
We look forward to helping you achieve unparalleled success in the digital landscape.
Frequently Asked Questions
What are Managed IT Services?
Managed IT Services, often called managed services, involve the proactive management and support of a business's IT infrastructure provided by a managed service provider (MSP). These services can include network and support services, cybersecurity, cloud services, and more.
What is a Managed Service Provider (MSP)?
A Managed Service Provider is a company that offers managed services to businesses and organizations. They serve as an outsourced IT department, providing expertise in managing and maintaining a company's IT systems and infrastructure.
What services do Managed Service Providers (MSPs) offer?
MSPs offer many services, including network management, cybersecurity, data backup, disaster recovery, IT consulting, hardware and software management, and more. The goal is to ensure the operation of an organization's IT environment.
How does Managed Services benefit my business?
Managed Services offer several advantages, such as improved IT performance, reduced downtime, cost predictability, access to expert professionals, and the ability to focus on core business activities. They help enhance productivity and security while controlling IT-related costs.
What is in a typical Managed IT Services contract?
Managed Services contracts can vary but often include services such as 24/7 remote monitoring of, helpdesk support, network management, software updates, security measures, data backups, and more, tailored to the client's specific needs.
How do Managed Service Providers ensure fast response times?
MSPs maintain vigilant monitoring and employ automated systems to detect real-time issues. They often have service level agreements (SLAs) that define response times and prioritize urgent issues for rapid resolution.
Are Managed IT Services suitable for small businesses and large enterprises alike?
Yes, Managed IT Services are suitable for businesses of all sizes. Managed Service Providers tailor their offerings to meet the unique requirements and budgets of small businesses, mid-sized companies, and large enterprises.
How do I choose the right Managed IT Service Provider for my business?
When selecting a Managed IT Service provider, please consider their expertise, experience, range of services, scalability, pricing, and client references. Finding a managed services provider that aligns with your business needs and goals is essential.
Can Managed IT Services be customized to my business's requirements?
Yes, Managed IT Services can be customized and personalized to your needs. A reputable Managed Service Provider will work closely with you to tailor their services to match your business's goals and IT infrastructure.
How can a Managed IT Service Provider assist with cloud services?
Managed IT Service Providers assist in migrating to and managing cloud services. They help select the right cloud solutions, ensure data is secure, and manage cloud resources efficiently, allowing businesses to benefit from scalability and flexibility.
Can Managed IT Services help businesses with compliance and regulatory requirements?
Yes, Managed IT Service Providers can assist businesses in achieving and maintaining compliance with industry-specific laws and regulations by implementing security measures, data management strategies, and reporting tools tailored to compliance requirements.
How can I assess the reliability and quality of a Managed IT Service Provider's services?
To assess a provider's managed services model refers to the reliability and quality, review client testimonials, inquiring about their experience and certifications, examining their service level agreements, and requesting references from existing clients.
Can Managed IT Services provide real-time reporting and insights into my IT infrastructure's health and performance?
Many Managed IT service providers offer real-time reporting and insights, providing valuable data and metrics to make informed decisions about your IT and infrastructure management.
Can Managed IT Services be scaled up or down as my business grows or changes?
Managed security services are flexible and can be scaled to accommodate your business's growth or evolving needs. Managed Service Providers can adjust services to match your changing requirements.
Managed IT Services by Area